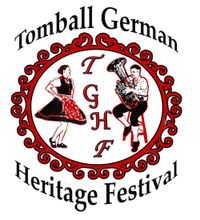 Click here, or the image to the right for information about the upcoming festival from entertainment coordinator, Valina.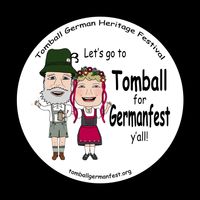 ---
Valinapolka.com is a proud contributor to the Tomball German Festivals.

Time is volunteered and webspace is donated to these fun German events every year with the understanding that the benefits go to students and student organizations interested in learning and preserving German language and heritage.
General Information
Valina is the entertainment coordinator for the Tomball German Festivals.  Keep an eye on these pages:  Tomball German Heritage Festival, and Tomball German Christmas Market for up to date information about the entertainment!    
Tomball German Festivals raise money for exchange programs between Tomball and Telgte Germany.  This includes scholarships for students to go to school overseas.  In 2011, a scholarship was awarded to a young lady who studied German in high school, and volunteered at the festival.  She used the money toward her school expenses in Poland.  Over the years, many students have received scholarships for their studies.
The festivals also send support to Houston area German student programs.  Houstonfest is an annual competition for Houston-area students in grades 8 through 12 who are in the German language program.  It offers nearly 50 contests categories for students in German I, II, III, IV, and V, including written and oral tests, declamation, drama, art, craft, folk dance and music.  There are also categories for advantaged speakers.  Many of these students participate in the Tomball Festivals by performing with their folk dance groups, polka bands, choirs and story tellers.  The festival makes donations to the clubs for their participation.  Each event, nearly $3000 is donated to German clubs who perform and participate at the festivals. 

The festival also sponsors several activities over the year,  sending a local folk dance teacher to work with school age children, festival headliners visit area schools the day before the festival opens, and supporting Kleinfest with interactive performances by entertainers from the festivals during dinner time.

These are just a few examples of how the festivals use the money they raise to support German students and heritage.  There are many more functions and scholarships that happen each year benefiting high school graduates, exchange students and college students!

Would you like to contribute?  Donations may be mailed to Tomball Sister City Organization, PO Box 1131, Tomball, Texas 77377-1131.  Donations are accepted at the festivals as well. Thank you so much for your support!