14th TOMBALL GERMAN CHRISTMAS MARKET;
"Weihnachtsmarkt, Texas Style"


December 9 - 11 2022




Friday, 6pm - 10pm, Saturday, 10am - 10pm, and Sunday,10am - 6pm


 
---
2022 ENTERTAINMENT SCHEDULE
subject to change
FRIDAY Dec 9

Grady Und Sandra Platz
MC Heidi Holadio
6pm - 10pm Alex Meixner Band
7pm Tanzenfest Volkstanzkreis
8:30 Rathkamp German Folk Dancers
Telgte Dancehall
MC Valina Polka
6pm - 10pm Terry Cavanagh and the Alpine Express Trio
7pm Rathkamp German Folk Dancers
8:30 Das ist Keine Kunst German Folk Dance Troupe
Warsteiner Party Stage
MC Zach Attack
6pm - 10pm Chris Rybak Band
7pm Das ist Keine Kunst German Folk Dance Troupe
8:30 Tanzenfest Volkstanzkreis
Ziegenbock Wiesn
MC Tony Swonke
6pm - 10pm Mike Stroup and Annie Rost
7:30 Tomball Memorial HS German Club tells German Fairy Tales
8:30 Woodlands HS Improv Club
Heritage Center
6pm - 8:30 Evelyn Billington  
Strolling
The TubaMeisters, David G Wonders, Isaak Klaus, Gene Hackemack, Marie MS Germanfest, Cirque La Vie  
SATURDAY Dec 10

Grady Und Sandra Platz
MC Zach Attack
10:00  Terry Cavanagh and the Alpine Express Trio
11:05  Opening Ceremonies and tapping of the keg
11:30  Terry Cavanagh and the Alpine Express Trio
12:00  Tanzenfest Volkstanzkreis
12:30  Terry Cavanagh and the Alpine Express Trio
1:30    sound checks
1:45    Das ist Lustig
3:15    Whitney HS German Club Folk Dancers
3:45    Das ist Lustig
5:15    Tanzenfest Volkstanzkreis
5:45    sound checks
MC Glen Renfro
6:00    Alex Meixner Band
7:00    Stein Hoist (Masskrugstemmen)
7:30    Alex Meixner Band
8:30    Stein Hoist (Masskrugstemmen)
9:00    Alex Meixner Band
Telgte Dancehall
MC Heidi Holadio
10:00  Auf Geht's Musik
11:00  Cloggers Unlimited
11:30  Auf Geht's Musik
12:30  Rosehill Kantorei
1:00    Auf Geht's Musik
2:30    Rathkamp German Folk Dancers
3:00    sound checks
3:15    Lederhosen Junkies
4:45    Whitney HS German Club Folk Dancers
5:15    Chicken Dance Contest
5:45    sound checks
6:00    Bohemian Blitz
7:00    Tanzenfest Volkstanzkreis
7:30    Bohemian Blitz
8:30    Das ist Keine Kunst German Folk Dance Troupe
9:00    Bohemian Blitz

Warsteiner Party Stage
MC Evelyn Billington
10:00  Evelyn Billington
11:00  Break for parade
11:15  sound checks
11:30  Lederhosen Junkies
1:00    Whitney HS German Club Folk Dancers
1:30    sound checks
1:45    Der Klein Steins
3:15    Cloggers Unlimited
3:45    Evelyn Billington
4:20    Der Klein Steins
5:45    Das ist Keine Kunst German Folk Dance Troupe
6:15    sound checks
6:30    Chris Rybak Band
8:00    Rathkamp German Folk Dancers
8:30    Chris Rybak Band

Ziegenbock Wiesn
MC Tony Swonke
10:00  HomeBrewed Brass
11:00  Break for parade
11:15  HomeBrewed Brass
12:15  Game Time with Marie; MS Germanfest
12:45  sound checks
1:00    Prost
2:00    Balloon Animal Lessons with David G Wonders
2:30    Prost
3:30    Das ist Keine Kunst German Folk Dancers host Dance Party
4:00    Prost
5:00    Hollerin' and Yodelin' Contest
5:30    sound checks
5:45    Eurofest
6:45    Woodlands HS Improv Club
7:15    Eurofest
7:45    Great Beard Contest with GOAT Maddness
8:30    Eurofest
Heritage Center
12:00 - 5:00 Rebecca Huck
6:00 - 8:30  Isaak Klaus
Gazebo
1pm, 3pm & 5pm  Story Time with Ghillie The Elf
12pm, 2pm, 4pm, 6pm  Carolyn Das Klaggen Studt
Strolling
Sinterklaas, David G Wonders, Isaak Klaus, Gene Hackemack, Marie MS Germanfest, Cirque La Vie, The TubaMeisters, Rosehill Kantorei, Woodlands HS Improv Club
SUNDAY Dec 11

Grady Und Sandra Platz
MC Zach Attack
12:00  Das ist Lustig
12:45  Li'l Wranglers and Elite Wranglers
1:00    Das ist Lustig
2:30    Stein Holding (Masskrugstemmen) for Youngsters
2:50    sound checks
3:00    Alex Meixner Band
4:00    Tanzenfest Volkstanzkreis
4:30    Alex Meixner Band
Telgte Dancehall
MC Heidi Holadio
12:00  Bohemian Blitz
1:00    Rathkamp German Folk Dancers
1:30    Bohemian Blitz
2:45    Li'l Wranglers and Elite Wranglers
3:00    sound checks
3:15    Auf Geht's Musik
4:15    Chicken Dance Contest
4:30    Auf Geht's Musik
Warsteiner Party Stage
MC Evelyn Billington
12:00  Evelyn Billington
12:45  Das ist Keine Kunst German Folk Dance Troupe
1:15    Evelyn Billington
1:45    Chris Rybak Band
3:00    sound checks
3:15    TubaMeisters
4:00    Rathkamp German Folk Dancers
4:30    Chris Rybak Band
Ziegenbock Wiesn
MC Tony Swonke
12:00  Lederhosen Junkies
1:00    Game Time with Marie; Ms Germanfest
1:20    Lederhosen Junkies
2:45    Balloon Animal Lessons with David G Wonders
3:15    sound checks
3:30    Der Klein Steins
4:15    Das ist Keine Kunst German Folk Dancers Host Dance Party
4:45    Der Klein Steins
Heritage Center
12pm - 5pm Rebecca Huck
Gazebo
1pm, 3pm & 5pm  Story Time with Ghillie The Elf
12pm, 2pm, 4pm  Carolyn Das Klaggen Studt
Strolling
Sinterklaas, TubaMeisters, David G Wonders, Gene Hackemack, Cirque La Vie, Marie MS Germanfest
Theresa at Polka Beat made a youtube video of some of the happenings at the 2011 German Christmas Market.  Check it out!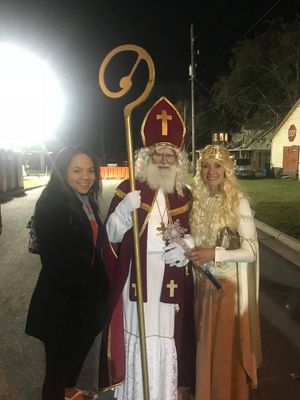 The GOAT Beard Contest;  Have the greatest beard anyone has ever seen, but you've yet to receive the fame and fortune such a beard should garner?  Well, we have a solution for you!  Just show off the most awesome beard in the world, and you could win!  Dress up your beard to be different. 

Stein Holding Contest, otherwise known as Masskrugstemmen;  Hold a full beer stein straight out at arms length for the longest time without showing weakness.  Wobbling, sagging, bending or spilling disqualifies.  Two contest times on Saturday evening at the Grady und Sandra Platz. located near the corner of Pine and Market. 
Hollerin and Yodelin contests; Can you holler real loud?  effectively?  Do the people in the next village hear you?  Can you yodel?  Compete for originality and artistry! 
Chicken Dance Contest;  Do you think you have what it takes to be the most amazing Chicken Dancer ever?  Show off your moves, be creative, and make the feathers fly! 


Information and contest prizes TBA