2016 Europe Trip
A great group of travelers joined us in Germany this past summer.  We left the US on July 20 and returned Aug 2.  The highlight of this trip was the Festwoche in Garmisch, but EVERYTHING was amazing!  Guests are still talking about the fun they had while traveling with the band.  
Take a look at the photo gallery below to see what we were up to.  Below the photo gallery, you can find all the information and brochure from the 2016 tour.  It will give you an idea of how we planned things.

We hope you'll join us in the summer of 2017 when we visit the Rhine region, or in April of 2018 when we go to the Netherlands for the Tulips!
Check out this amazing vacation package!

Our own private luxury bus will take us to visit Meersburg, Uhuldingen, Stein Am Rhein, Rheinfalls, Hohenschwangau / Neuschwanstein, Oberammergau, Ettal, Garmisch / Partenkirchen, Innsbruck, and Munich.

We'll stay for 5 days on the Bodensee
6 days in the Bavarian Alps
Take day trips to Switzerland and Austria
Tour famous Castles
Have time to explore historic museums
Taste things at Breweries and distilleries
Marvel at basilicas that are larger than life
See intricate painted buildings
Visit a 400 year old Bell Foundry
Tour a Palace
Have music every day
Party at the Festwoche! (a traditional Bavarian festival complete with folk dancing and brass bands)
Have some time to relax!  ahh, Das ist the life!
Just imagine how farm fresh eggs, daily baked breads, seasonal berries, cheeses and local meats will taste while sitting on a terrace overlooking the beautiful Bodensee?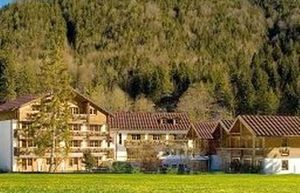 We depart the US
(group will leave from Houston)
on Wednesday July 20,
and return on Tuesday August 2.
That gives us 12 days and nights in Germany!
The hotels we'll stay in are very excited to have us as guests, and they welcome us to play our music for you in the evenings! Time to really take in your surroundings is important. This trip is designed to minimize the need to move luggage, and maximize the time you get to spend enjoying your vacation, all while giving you plenty of excursions and activities!  Even our departure day will be a breeze, as we will stay in a hotel near the Munich airport on our last night.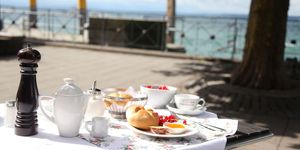 Our hotel in Ettal has a sauna and small indoor pool, and is located right up next to the hillside!  Rumor has it, we'll hear the gentle tink tink of cowbells in the distance.